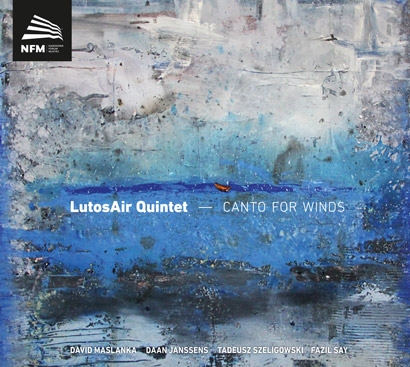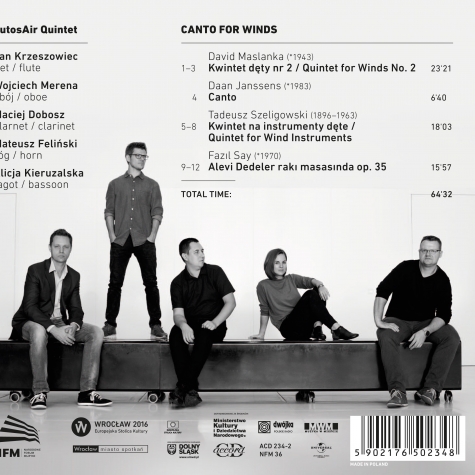 Canto for winds
The phonographic debut of an excellent wind ensemble active under the aegis of the National Forum of Music: The LutosAir Quintet. The group brings together real virtuosos, who guarantee the album's highest level of performance.
Description
Year of release: 2017
Publishers: National Forum of Music, CD Accord
Performers: LutosAir Quintet
Chamber music is believed to be the highest level of music-making, requiring from artists both solo skills and the ability to collaborate, a similar understanding of music, a creative atmosphere, and sometimes the willingness to compromise. Writing for a quintet consisting of flute, oboe, clarinet, French horn and bassoon is a big challenge for the composers due to the group's heterogeneous sound, varied playing techniques and the specificity of individual instruments. It was only in the 20th century that the colours of wind instruments began to be perceived as highly inspiring, and this resulted in the creation of a vast body of works for line-ups of wind instruments. The LutosAir Quintet album features two works from the second half of the 20th century and two works from the 21st century. It is worth emphasising that it was this Wrocław ensemble that has performed the Polish premieres of compositions by David Maslanka, Daan Janssens, and Fazil Say.
For The LutosAir Quintet musicians, it is particularly important to choose a varied and original repertoire. These qualities can be found in the ensemble's sound, and the pieces presented on the album prove that this heterogeneity is undoubtedly an advantage and guarantees an extraordinary richness of colours – this time in four iterations.
Agata Adamczyk